Note: Do not contact individual clinical sponsors for information on vacancies, elective availability, placement etc. All requests regarding the program should be coordinated with the Office of International Medical Student Education. Applicants who contact clinical departments directly will be disqualified from participating in the program. 
Guidelines for Eligibility:
Electives are available to full-time,

FINAL

year international students in good standing at approved medical schools. Our program defines the final year as the year preceding your graduation date. Requested elective dates must fall within the year preceding your graduation date. If you are not sure you are considered an international student,

prior to applying

, please contact us via email at 

globalhealthelectives@med.cornell.edu

.

 

U.S. ciizens must contact us 

via email at 

globalhealthelectives@med.cornell.edu prior to applying.


US citizens who hold a US Bachelors are typically not eligible to apply. 

If there are questions about eligibility, please email us at  globalhealthelectives@med.cornell.edu 

BEFORE

paying the non-refundable application fee or sending an application.  

If a completed application is deemed ineligible based on a failure to adhere to these criteria, the application processing fee will not be refunded.

Students must complete 6-8 weeks of clerkship in the area of interest.  MEDC clerkship is required for all electives.

 

Students must be fluent in English to participate in electives. TOEFL score of at least 100 is required from applicant who are from medical schools where English is not the language of instruction. Proof of exam/result must be submitted.  

 

Students must submit applications six months prior to their earliest elective date requested. For example, if you wish to apply for electives in the months of January, February and March, you should submit your complete application in July. 

There are no placements in June, July and August

.  Refer to chart below.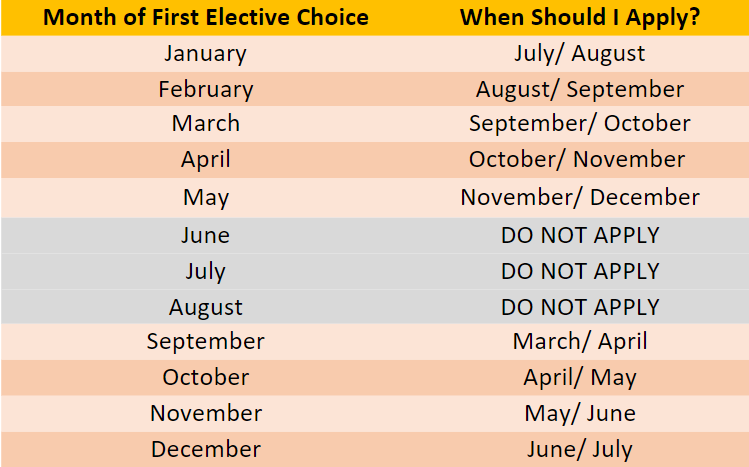 Electives are either two or four weeks long as indicated in the course catalog. There is a minimum participation requirement of 4 weeks and there is a maximum of 8 weeks participation limit.

 

Students must be able to attend the full length of the elective if they are placed. Dates listed in the course catalog are not adjustable.

 

It takes several months to fully process applications and receive a response from departments. 

Students typically are notified of a decision 2 months prior to

the start of

elective date

placement

.

PLEASE DO NOT SUBMIT YOUR APPLICATION MORE THAN SIX MONTHS PRIOR TO YOUR EARLIEST ELECTIVE DATE

.

 

Applications for virtual electives can be submitted 3-4 months in advance of the scheduled elective month.  Contact Dianne Young at 

dey2001@med.cornell.edu

 for more details.

 

There is a $300 

non-refundable application processing fee

 that must be paid at the time of application.  

This fee does not guarantee placement in an elective

 and cannot be refunded if the student does not get placed.  
Weill Cornell Medicine Policies:
Visiting international students are subject to the same rules and regulations that apply to Weill Cornell students. Satisfactory academic performance, English language skills, and professional conduct determines registration and continued participation in electives.
Note: If student behavior, performance, or language skills is unsatisfactory, it may lead to administrative withdrawal from the program and the student returned home.
Government Regulations:
Accepted students will be required to obtain a visa in order to visit the United States. Students should apply for a visa after receiving the electives approval letter.
Note: If accepted to the program, visiting students are not considered degree candidates of Weill Cornell Medicine.
Accepted students will be required to submit an application to the New York State Education Department (NYSED), if approved for an elective at Weill Cornell.
Visit the Approved Students page if you have been approved for detailed instructions on securing your placement.